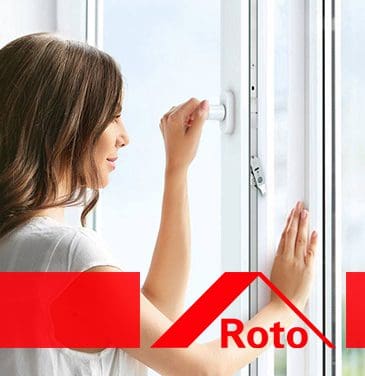 Roto Frank Holding AG, headquartered in Leinfelden-Echterdingen, near Stuttgart, is a German multinational company with a main focus on window and door technology that offers maximum comfort and safety.
Founded 85 years ago by the German technician Wilhelm Frank, the company laid in 1938 the technical-theoretical foundations of the tilt&turn window operating model, which has remained, until now, the main option of equipping the thermal insulation joinery and which transformed a company with an employee into an international concern.
From the moment of launching on the local market the systems designed to equip the thermal insulation joinery assemblies, the hardware supplier Roto is placed in the top of the specialized companies, taking benefit from the contribution of the quality of the parts promoted by the German group with the same name.
Roto products have been present on the Romanian market for almost two decades, the first hardware manufactured by Roto being installed in Romania in the 90s.
Being an initiator in terms of technological progress in the field of thermal insulation joinery, Roto develops intelligent solutions for products, which impress with their technical precision and long-life service. Both production and environmental management, as well as logistics, regardless the country of manufacture, are based on German values ​​such as reliability, rigor and vision.
The German precision found in design and development, together with quality and process management, ensures the provision of high quality performance and services worldwide.
However, the strongest argument of the German company remains the innovation, corroborated with the performance of the promoted products.
At Roto CTI, the testing center in Leinfelden, known as the "International Technology Center", windows and hardware solutions are tested in accordance with national and international standards.
The consistency with which German values ​​are implemented in the specifications and quality standards ensures the trust of the company's partners and customers.
Lovers of innovation, performance and durability, we have a close partnership with Roto, which provides the latest technologies in functionality, strength and safety, which we incorporate into our windows and doors built to last.