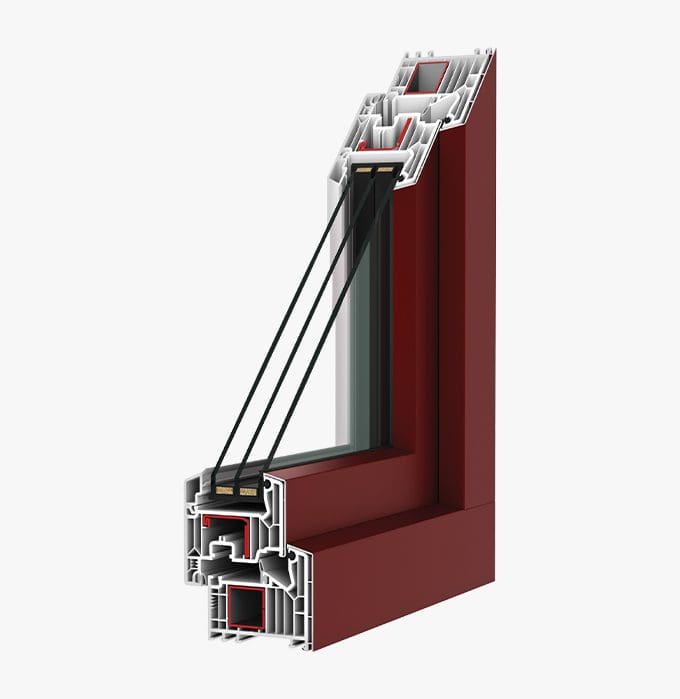 6Stars PVC Heat-Insulation Windows
The 6Stars PVC profile offers outstanding performance in terms of heat insulation  and the comfort of your home.
6Stars PVC Windows are recommended for buildings designed to achieve a higher level of efficient energy use.
Advice on choosing the best products
Customisation of 6Stars PVC Windows
Technical Details - 6Stars PVC Windows
Number of chambers and mount depth for 6Stars PVC Profile
7 chambers in the fixed window frame
6 chambers in the window frame (moveable)
82 mm width (mount depth)
outer wall thickness of PVC profiles: ≥ 2.8 mm
Both the number of chambers of the PVC profile and the mount depth and the thickness of the outer wall directly influence the heat-insulation and noise-insulation features of a heat-insulation window.
Gaskets – 6Stars PVC Profile
3 sealing gaskets (2 on the frame and 1 on the window frame)
2 glass support gaskets
a third gasket, called a median gasket, located between the two sealing gaskets on the window frame, increasing the sealing capacity, raising the noise and heat-insulation levels, as well as providing additional weather protection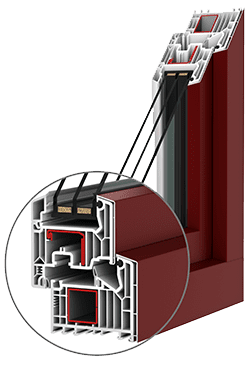 6Stars View Heat Insulation
Uw = 1,16 W/m²K pfor double glazing unit with Ug = 1,1 W/m²K
Uw = 0,83 W/m²K for triple glazing unit with  Ug = 0,6 W/m²K
Uw = 1,10 W/m²K for double glazing unit with Ug = 1,0 W/m²K
Uw = 0,76 W/m²K for triple glazing unit with  Ug = 0,5 W/m²K
Uw value is being calculated for a single wing standard window of 1230x1480mm, with an area of 1,82m² and warm spacer.
Uw and Ug values may vary according to the glazing unit type used. For a precise value, please check on QFORT offers.
*The warranty period may vary depending on the components and specifications of the product. Please refer to the warranty certificate for more details.