Advice on choosing the best products
Customisation of 5Stars PVC Windows
Technical Details - 5Stars PVC Windows
Number of chambers and mount depth for 5Stars PVC Profile
5 chambers in the fixed window frame
5 chambers in the window frame (moveable)
70 mm profile width (mount depth)
outer wall thickness of PVC profiles: ≥ 2.8 mm
Both the number of chambers of the PVC profile and the mount depth and thickness of the outer wall are particularly important elements for providing heat insulation and noise insulation, as well as the high durability features of QFORT heat-insulation windows.
Gaskets – 5Stars PVC Profile
2 sealing gaskets (one in the frame and one in the window frame) made of silicone rubber to ensure optimal sealing of the QFORT heat-insulation windows
2 glass support gaskets
an additional rabbet gasket, providing protection against dust and dirt deposits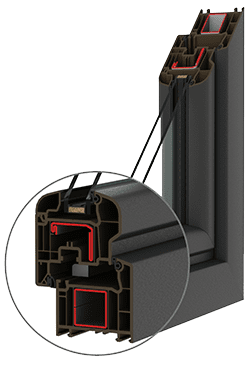 5Stars View Heat Insulation
Uw = 1,26 W/m²K for double glazing unit with Ug = 1,1 W/m²K
Uw = 0,92 W/m²K for triple glazing unit with  Ug = 0,6 W/m²K
Uw = 1,19 W/m²K for double glazing unit with Ug = 1,0 W/m²K
Uw value is being calculated for a single wing standard window of 1230x1480mm, with an area of 1,82m² and warm spacer.
Uw and Ug values may vary according to the glazing unit type used. For a precise value, please check on QFORT offers.
* The warranty period may vary depending on the components and specifications of the product. Please refer to the warranty certificate for more details.