Classic Range Aluminium Entrance Doors
Classic range Aluminum doors stand out through reliability, resistance and excellent performance in terms of thermal and sound insulation. All these along with the design elements.
This range brings together 18 panels and are mainly addressed to those who prefer the classic style, first of all standing out for their simplicity and elegance.
Advice on choosing the best products
Advantages of Classic Range Entrance Doors
Protection
QFORT aluminium entrance doors are certified as being particularly resistant to severe weather conditions.

Noise insulation
The panel thickness varies between 44 mm and 81 mm, resulting in better noise-insulation properties.
Heat insulation
The "U" heat transfer coefficient for the aluminium entrance doors varies between 0.9 W/m²K and 1.2 W/m²K.
Security
The hardware used for QFORT aluminium entrance doors offers a high level of anti-burglary protection, ensuring complete security.
Increased comfort
Electronic access systems are a modern variant of gaining access to the inside without using a key, and thus provides additional convenience.
High value
The greater noise- and heat-insulation properties, as well as the optimal reliability of the aluminium doors, increase the overall value of the house.
Models of Classic Range Entrance Doors
Customisation of Classic Range Entrance Doors
Technical details of Classic Range Entrance Doors
Aluminium Profiles for Entrance Doors
In addition to the PVC profiles, QFORT uses special aluminium profiles for the Classic aluminium entrance door range.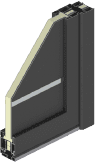 Mount depth
70 mm / 80 mm
Heat transfer coefficient U*
1,2 W/m²K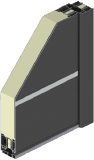 Mount depth
70 mm / 80 mm
Heat transfer coefficient U*
0,9 W/m²K
* The U value is calculated for a 1000 × 2300 mm door with indoor opening and panel without glass insertions.
Constructive Options (for the doors with panel and for the doors with glazing)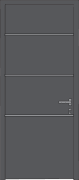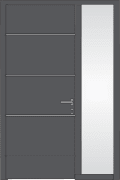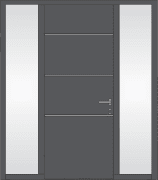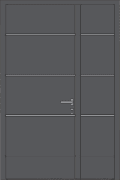 Double-wing door with floating mullion

Simple door with upper-light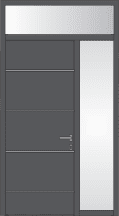 Door with sidelight and upper-light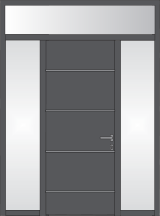 Door with two sidelights and upper-light
*The warranty period may vary depending on the components and specifications of the product. Please refer to the warranty certificate for more details.