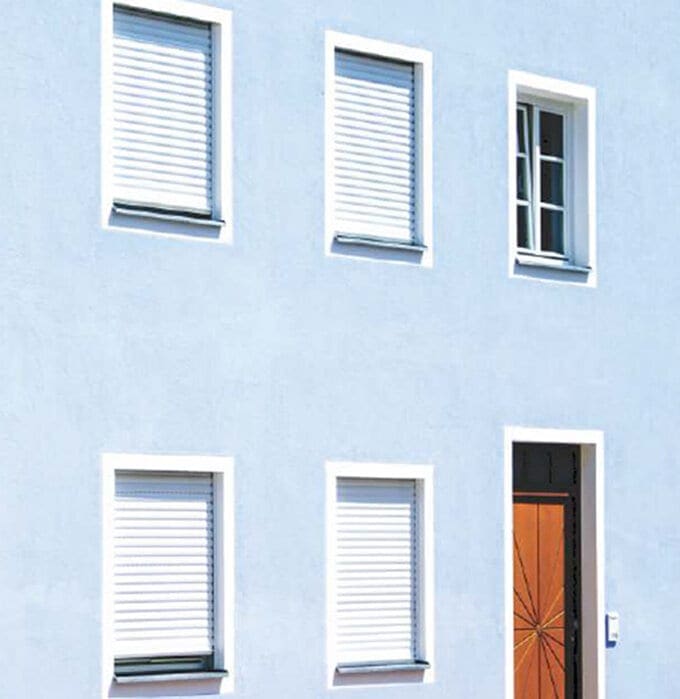 Klassik Overlapped roller shutters
The Overlapped roller shutters Klassik features are characterised by durability and efficient protection, and by the superior noise- and heat-insulation capacity of its component parts.
Advice on choosing the best products
Technical details of Klassik Overlapped roller shutters
Overlapped roller shutters Klassik features
Box: PVC, optional with Aluminum front cover
Blades: Aluminum
Rails: PVC or Aluminum
Final blade: Aluminum
PVC box with straight design;
For the 170box – the maximum assembly depth is 168mm;
For the 210 box – the maximum assembly depth is 190mm;
Aluminum blades of 43 mm (standard) and 39 mm (optional);
High resistance to abrasion and weathering;
The roller shutter can be provided with insect screen, installed inwards and protected by the roller blades;
The roller shutters can be operated: manually, through electric operation with wall transmitter/ remote control, through an intelligent control from the computer, tablet or smartphone.
Thermal resistance and sound insulation of the Klassik roller shutter
U sb = 0,82 W/(m² K) for 210mm box
ΔR = 0,15 (m²K)/W for 39 mm blades - Klassik without insect screen
ΔR = 0,12 (m²K)/W for 39mm blades - Klassik with insect screen
D n,e,w = 49 dB for 210mm box
U sb – represents the thermal transmission coefficient of the box.
ΔR – measures the additional thermal resistance of the roller blades. The higher this coefficient is, more insulating the roller blade is.
D n,e,w – measures the coefficient of sound insulation in dB. The higher the value is, better the sound insulation is.
Customisation of Overlapped roller shutters Klassik
Available colors – boxes, rails and final blade
The Discreet by QFORT window roller shutters can be made in a wide range of colours to fit perfectly into any architectural style and to harmonise with the building facade.
Due to the different technologies of the wrapping or painting surfaces, there may be a difference in shade between the box, rails and aluminum blades.
For choosing the colors, please check the PVC color chart. For the blades it can be checked the color chart of the Roller Shutter Blades.
Optionally this type of roller shutter can be ordered with rails and front cover of the aluminum box, painted in RAL colors selected from QFORT color chart.
*The warranty period may vary depending on the components and specifications of the product. Please refer to the warranty certificate for more details.